CEOs and team leaders, do any of these describe you?
You've set goals for your company in the past and not met them
You're bursting with ideas but don't have time to break them down into doable steps
You know slow execution is the top challenge for your team, but you do not have tools and systems to carry out growth initiatives?
If so, then Objectives & Key Results (OKR) setting is the method you've been looking for. OKR is a critical thinking framework that is oriented from Intel. Today Google, Huawei, and many other companies use it to achieve organizational goals faster.
So to help you jumpstart your 2021 company goal setting, I am offering free 1:1 OKR setting coaching session for 10 CEOs or team leaders! If you've struggled in the past to drive your employees to achieve your company goals, I want you to book this coaching with me: https://calendly.com/okrscoaching,
I'll show you a new way to achieve your 2021 goals– based NOT on your vague ideas but truly proven methods.
I am sharing with you a sample of how I helped a CEO evolve one of his 2021 objectives from employees' work-life balance to establish an SOP during coaching.
Context: The CEO of a digital marketing company based in Kuala Lumpur set a goal to ensure employees get a work-life balance. The CEO was new to OKR, but he did some self-study about OKR before requesting coaching.
In total, he set two objectives for his company in the 1st quarter of 2021. The whole coaching session lasted 1.5 hours. After I conducted an OKR coaching with his 1st objective writing, his objective evolved from "Achieve employees work-life balance" to "Establish an SOP to ensure any project manager can take over the bank's project from Joey."
The script below is taken directly from our conversation in the 1:1 OKR coaching session. I am using the Left-Hand-Column (LHC) reflection, which I learned from my mentor Ben Lamorte. He is the author of Objectives and Key Results- driving focus, alignment, and engagement with OKRs.
The LHC is my thinking process as an OKR coach. It recorded what I was thinking when coaching the CEO, but I did not say it to him.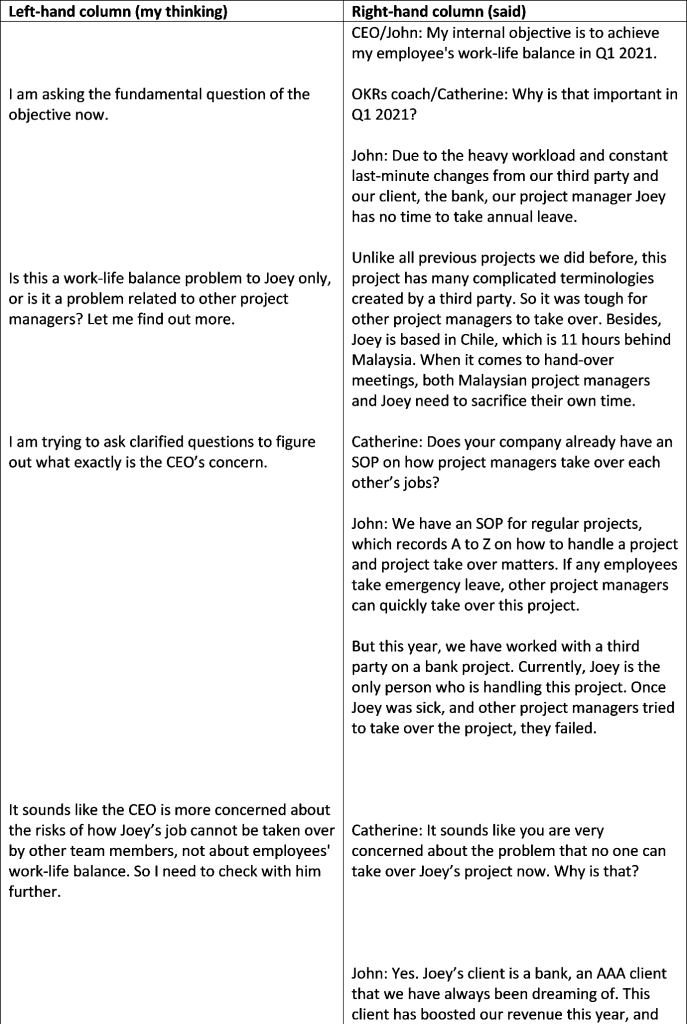 Finally, this is the OKR draft from the coaching session with CEO John:
1st Objective in Q1 2021: Establish a new SOP to ensure other project managers can take over the bank project from Joey and the project will be completed successfully.
Why now: Our AAA client, the bank, has boosted our revenue this year. They are going to give us more similar projects in 2021 from other branches. There is currently only one project manager, Joey, who knows the A to Z of this project. To make sure other future project managers can quickly take over this project when Joey is on leave, her experience and knowledge should be converted into an SOP.
Key Result 1: (Champion: John): Joey takes about two weeks to complete the bank project's SOP.
Key Result 2: (Champion: John): Other project managers paraphrase their understanding of the bank project's SOP with 90% understanding alignment with Joey.
Outcome: The CEO said he likes how OKR gets him to think through the outcome he pursues. Previously, whenever other team members try to take over the bank project, they feel that the work is daunting and do not know where to start. With the OKR setting, they are clearer about the bigger picture and measurable efforts they need to make. The CEO said he would continue to use OKR when communicating with his team.
OKR Coaching takeaway:
Ask clarification questions to help the client identify "real" objective and get what exactly he wants to achieve in his objective. For example, the turning point for the objective to evolve from work-life balance to an SOP is to ask: "It sounds like you are very concerned about the problem that no one can take over Joey's project now. Why is that?"
Continue to ask in-depth questions to help the client discover why the objective is so important to him? For example, to get the client to think "Why," I asked him: "What will happen if any other project managers can easily take over Joey's job when the project is still going on next year?"
This is only part of this 1.5 hours of OKR coaching. CEO and leaders, if you are interested in using OKR to identify your 2021 goals for your company or address the obstacles that keep you from reaching your company's objectives, you are welcome to book a free consultation with me @ https://calendly.com/okrscoaching.
About Catherine Chen
Catherine Chen is an expert in the field of Corporate Talent Development and Management. Her experience includes leading the Talent Development & Management program for a Fortune Global 500 company. Her achievement in Talent Development was rewarded by the Excellence of Education Awards of Life Office Management Association.
Many of Catherine's clients had the busy-but-not-productive problem. People worked hard on work output but did not focus on work outcomes; they were not able to connect their work to the bigger picture of the organization. With this in mind, she explored how to enhance the alignment and execution within companies, and discovered OKRs in 2017.
As a Chinese native, Catherine is fluent in Mandarin. She graduated from the University of Sheffield with a Master's degree in Multilingual Information Management. If you are interested in finding out more OKRs information, please visit: www.growthmindsetglobal.com