Shoot4Hoops, the best four-in-a-row sports game is already making waves globally and available for anyone looking to try their handles on a new classic game.
According to Gamio, "If you're a fan of classic games like "Four Up," "Captain's Mistress," "Puissance 4," "Fourplay," "Tic Tac Toe," "Xs and Os," or any board game for 2 players, then Shoot4Hoops is the game for you."
Available for beginners and experts of all ages, this great brain-training game is simple to play for casual gamers and can make the crowd go wild in competitive multiplayer gameplay.
Unlike other classic games, Shoot4Hoops features two-player games or one-player gameplay against the computer to practice their basketball shooting game. Players can:
Slam dunk against friends and family members in online PVP gameplay
Turn based real-time battles against real players globally
There is also a Michael Jordan-worthy assist option. However, users will have to buy superpower and power-ups – like extra time and eagle eye – from the shop by winning games or watching ads to use them.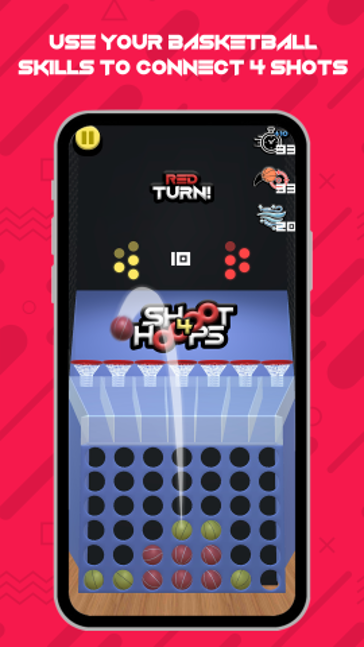 Playing Shoot4Hoops is simple
The first player to match 4 in a row, column, or diagonally wins—but the player will need to be a sharpshooter and use strategy to outsmart their opponent before they connect 4 in a row themselves.
And for those who don't know how to play, "It is easy to fire your shot. You only need to flick your finger toward the target net and shoot your basketball into one of 7 hoops. Aim carefully to land your ball in strategic slots to outwit your opponent. The first one to connect four in a row wins," LeBron adds.
Shoot4Hoops is allowing players to prove that they are the MVP of PVP. The developers are hereby calling all basketball fans, sports fanatics, and competitive gamers to bring their best game to the court in Shoot 4 Hoops.
Now is the time to give it the best shot!
Check out the game here: https://play.google.com/store/apps/details?id=app.gamio.shoot4hoops
Media Contact:
Company Name: Gamio
Email: [email protected]
Country: United States
Website: www.gamio.app