Laxis, a powerful artificial intelligence-based (AI) system, has debuted on the market as a next-generation solution for improved meeting efficiency, helping anyone who sits through business meetings increase their productivity before, during, and after.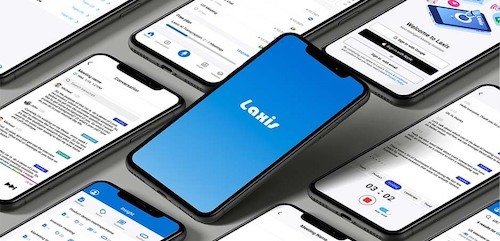 A unique and highly capable meeting assistant for remote and in-person meetings, Laxis seamlessly allows attendees to transcribe meeting audio, flag follow-up items, and share key takeaways with colleagues and stakeholders. Users can highlight key information and takeaways with a single click, and personalize pre-meeting topics, meeting templates, and more for consistent structure and format.
The app's powerful AI functionality not only transcribes audio but actively extracts predefined topics and keywords in real-time too to increase the value of recorded material. After recording, meetings and transcripts are automatically uploaded to the Laxis cloud and web-based platform, where they can be shared and analyzed in one place across organizations and devices or even connected to Google calendars for enhanced productivity.
"While default voice recording apps can record meetings, they require time-consuming manual transcription, which often has very limited utility," remarked Eric, Founder and CEO of Laxis. "Laxis automates the transcription process and provides insights into recorded material with AI tools. Entering the market as a next-generation AI-powered meeting assistant, we are helping everyone benefit from more effective meetings, anywhere in the world," he added.
Empowering business owners, executives, and managers, as well as market researchers, UX designers, and consultants who do a lot of interviews and seek powerful, next-generation tools, Laxis' AI-powered transcripts increase accessibility for recordings and boost their value with new insights.
"Laxis takes notes so meeting participants or interviewers can stay engaged and have highlights and key quotes automatically extracted across conversations," Eric added.
To learn more, download Laxis for free from the iOS App Store here, or visit Laxis.tech. In-app subscription purchases are available.
Media Contact
Company Name: Laxis
Contact Person: Eric
Email: [email protected]
Country: United States
Website: www.laxis.tech